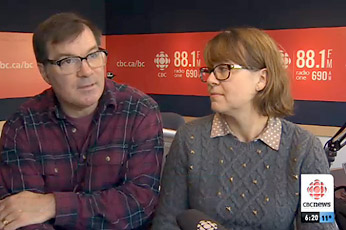 Listeners of CBC Radio One's "On the Coast" program have selected Pink Floyd as the best band of all time.
The group took nearly 47 percent of the more than 9,000 votes cast during the month-long online poll.
The Beatles came in second, with 36 percent. The rest of the top five: The Rolling Stones, 8 percent; Led Zeppelin, 7 percent; and The Mothers of Invention, 2 percent.
"On the Coast" is produced in Vancouver, B.C. Hosted by Stephen Quinn (pictured with producer Lisa Christiansen), it's heard from 3-6 p.m. weekdays.