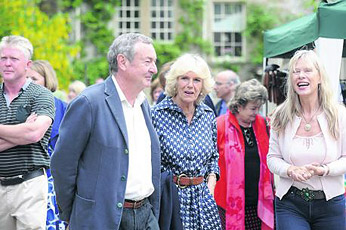 Pink Floyd drummer Nick Mason and his wife, Annette, will host a charity auction at their Corsham, Wiltshire, home June 21 and 22.
The event will benefit Springboard Opportunity Group in Chippenham and the Wiltshire Bobby Van Trust.
"We wanted to support two different charities who impact on the lives of folk locally," Nick says. "We thought about one for the elderly and one for the young."
He'll bake a cake to be auctioned.
"Nick is an excellent cook and often creates wonderful diner parties for our friends," Annette says. "When his daughters and sons are home, he still makes a special biscuit with a secret recipe which I know includes Mars Bars."
The couple's home was once owned by the Duchess of Cornwall (pictured with the Masons at last year's event).