Albums
High Hopes (1994)
Pink Floyd
"Steps taken forwards but sleepwalking back again ..."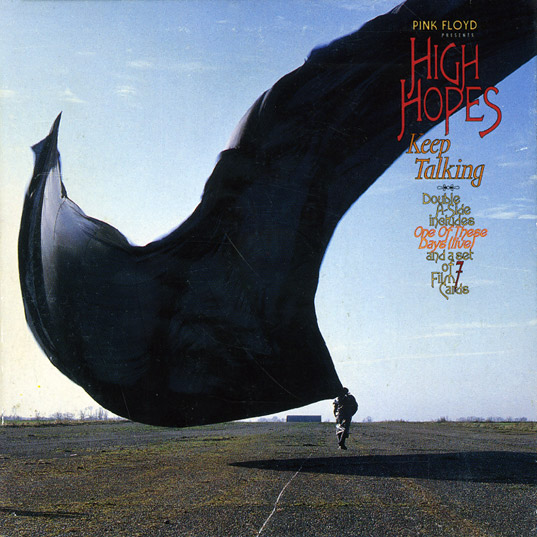 Rating





stars [ votes]
Thanks for rating "High Hopes"
Release date
Oct 10, 1994 (UK)
Buy it now
Your purchase helps support Floydian Slip
Songs
High Hopes (Radio edit)
05:16 (Gilmour/Samson)
Keep Talking (Radio edit)
04:55 (Wright/Gilmour/Samson)
One of These Days (Live)
06:57 (Pink Floyd)
This British EP CD contains radio edits of "High Hopes" and "Keep Talking." Both original versions appeared on "The Division Bell" (1994).
The third track is an otherwise unreleased live version of "One of These Days," originally from 1971's "Meddle" album, recorded at Niedersachsenstadion Hannover in August '94.
Included in the EP is a set of seven "film cards," containing Floydian photos along the same lines as the other pictures that grace "The Division Bell." The disc is a picture disc.