Barrett (1970)
Syd Barrett
"You're nice to me like ice ..."
Syd Barrett wasted no time in getting back into the studio following his debut solo album, "The Madcap Laughs," released in January 1970. Work continued, sporadically, through the summer 1970, and in November the "Barrett" album was released, complete with Barrett's sketches on the cover.

The "Barrett" album, like much of "The Madcap Laughs," was produced by David Gilmour, who also played bass on the project. With Barrett handling guitar, Gilmour also called in Floyd's Rick Wright for the organs, and Humble Pie's Jerry Shirley for drum work. (Roger Waters had co-produced material with Gilmour on Barrett's first solo effort, but decided to sit out the second attempt.)

Short of a session on "Sounds of the 70s" for BBC's Radio One, the "Barrett" LP sessions would be the last significant recording Syd Barrett would do. (1974's "Syd Barrett" double album was a reissue of "The Madcap Laughs" and "Barrett" — the first time that material was made available in the United States. "Opel," released in 1988, was simply a collection of the many alternate takes and unreleased material that came out of "The Madcap Laughs" and "Barrett" sessions.) A failed attempt at a third album in late 1974 involved a few days of unproductive sessions, before the project was scrapped.

The version of "Barrett" we play on "Floydian Slip" comes from the "Crazy Diamond" box set, released in 1993. It includes additional tracks at the end of the CD — mostly alternate takes — not included on the original album. The box set includes "The Madcap Laughs," "Barrett" and "Opel," and a 24-page, longbox-sized booklet about the recordings.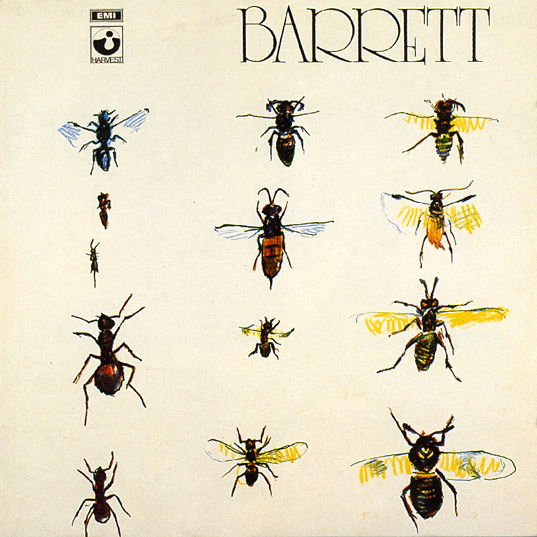 Release date
Nov 14, 1970 (UK)
Track listing
Baby Lemonade
04:12 (Barrett)
Love Song
03:06 (Barrett)
Dominoes
04:09 (Barrett)
It Is Obvious
03:00 (Barrett)
Rats
03:02 (Barrett)
Maisie
02:52 (Barrett)
Gigolo Aunt
05:47 (Barrett)
Waving My Arms in the Air
02:07 (Barrett)
I Never Lied to You
01:52 (Barrett)
Wined & Dined
02:59 (Barrett)
Wolfpack
03:42 (Barrett)
Effervescing Elephant
01:55 (Barrett)
Baby Lemonade (Take 1)
03:47 (Barrett)
Waving My Arms in the Air (Take 1)
02:13 (Barrett)
I Never Lied to You (Take 1)
01:48 (Barrett)
Love Song (Take 1)
02:32 (Barrett)
Dominoes (Take 1)
00:41 (Barrett)
Dominoes (Take 2)
02:36 (Barrett)
It Is Obvious (Take 2)
03:51 (Barrett)