The Wall Live in Berlin (1990)
Roger Waters
"So you thought you might like to go to the show? ..."
Roger Waters had been known to have said that he would never stage another production of "The Wall," at least until the Berlin Wall was torn down. When it miraculously was torn down in the winter of 1989, the stage was set for Waters to bring the story of Pink to the stage once more.

Actually, Waters had broken his promise only weeks before the wall came down — not that Waters's fans complained — when concert promoter Mike Worwood (Live Aid) contacted Waters on behalf of 72-year-old British war hero-turned-activist Leonard Cheshire. In September 1989, Cheshire had created the Memorial Fund for Disaster Relief, a program designed to hold £500 million in trust, the interest from which would go to help the victims of war. Cheshire was looking for a concert event of grand scale to promote his cause. Waters was taken with Cheshire, and agreed to stage "The Wall" sometime in the future.

When the Berlin Wall came down just a few weeks later, the venue seemed to suggest itself. Waters would present an all-star performance of Pink Floyd's 1979 magnum opus at Berlin, Germany's Potzdamer Platz.

The event took place July 21, 1990, with a cast of more than 100. It would become one of the largest musical productions in history. More than 200,000 fans gathered to watch Waters along with guests like Bryan Adams, Tim Curry, Joni Mitchell, Van Morrison, all 100 members of the Marching Band of the Combined Soviet Forces, the East German symphony orchestra and chorus, and others, tell the story of Pink and build a wall of 2,500 bricks throughout the show. (One has to wonder if the Scorpions realized that "In the Flesh?" had been written as a parody of monster rock groups, when the band agreed to perform it. They seemed to fit the bill perfectly.)

It was estimated that tens of millions witnessed the event on television and radio. If memory serves, the radio broadcast revealed a couple of major technical glitches during "Mother" and/or "Goodbye Blue Sky," which were corrected when Mercury Records released a double-album document of the event later that year. The album peaked at number 56 on the Billboard chart in the United States.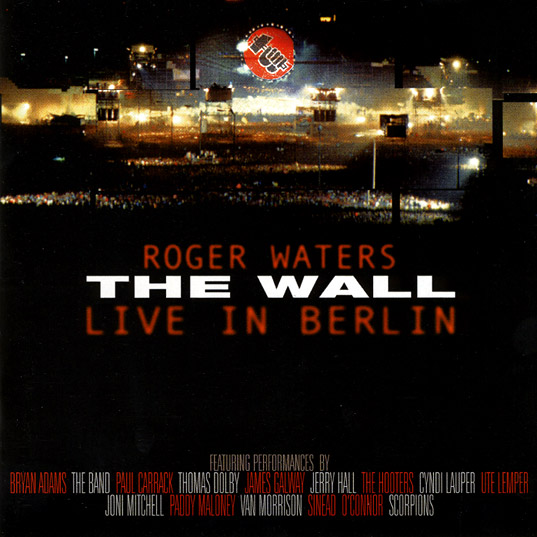 Release date
Sep 17, 1990 (UK)
Sep 11, 1990 (US)
Track listing
In the Flesh?
04:24 (Waters)
The Thin Ice
03:09 (Waters)
Another Brick in the Wall, Part 1
03:37 (Waters)
The Happiest Days of Our Lives
01:21 (Waters)
Another Brick in the Wall, Part 2
06:26 (Waters)
Mother
06:37 (Waters)
Goodbye Blue Sky
03:52 (Waters)
Empty Spaces
03:55 (Waters)
Young Lust
04:56 (Waters/Gilmour)
Oh My God - What a Fabulous Room
01:38 (Waters)
One of My Turns
02:43 (Waters)
Don't Leave Me Now
05:13 (Waters)
Another Brick in the Wall, Part 3
03:25 (Waters)
Goodbye Cruel World
01:31 (Waters)
Hey You
04:54 (Waters)
Is There Anybody Out There?
03:02 (Waters)
Nobody Home
04:50 (Waters)
Vera
01:13 (Waters)
Bring the Boys Back Home
02:51 (Waters)
Comfortably Numb
08:04 (Waters/Gilmour)
In the Flesh
05:10 (Waters)
Run Like Hell
04:52 (Waters/Gilmour)
Waiting for the Worms
04:13 (Waters)
Stop
00:20 (Waters)
The Trial
07:23 (Waters/Ezrin)
The Tide is Turning
10:39 (Waters)