Flickering Flame: The Solo Years Volume 1 (2002)
Roger Waters
"When my ego lets go of my end of the bone ..."
To coincide with Roger Waters' 2002 leg of his "In the Flesh" tour, Columbia Records/Sony Music released "Flickering Flame: The Solo Years Volume 1." The compilation borrows material from Waters' previous solo albums, and includes a handful of rarities.

There are only two numbers on the album that hadn't appeared before somewhere else in one form or another: Waters' straight-ahead cover of Bob Dylan's "Knockin' on Heaven's Door" and a "demo" of a new song, "Flickering Flame."

Sadly, the album's liner notes are sparse in their explanation of the Dylan cover. It first appeared in 1998 on the soundtrack of the Israeli-made film, "The Dybbcuk." Rick Wentworth, composer of the soundtrack who had been working with Waters on Waters' opera, "Ca Ira," asked him to record it.

Waters debuted "Flicking Flame" in front of live audiences early during his 2002 tour. That the song is labeled a "demo" on the album suggests we'll see an alternate recording of the piece on a future album. Either way, with guitar by Doyle Bramhall II and keyboards by Jon Carin, the song sounds too polished to be called a demo.

Also of note are "Towers of Faith," originally from the 1986 soundtrack to the film "When the Wind Blows" (and now long out of print), and a demo of "Lost Boys Calling" from the 1999 soundtrack to "The Legend of 1900."

This new release of "Lost Boys Calling" brings the number of legitimately available versions of that song to three, including two mixes released from the film.

The Australian version of the album is pictured above.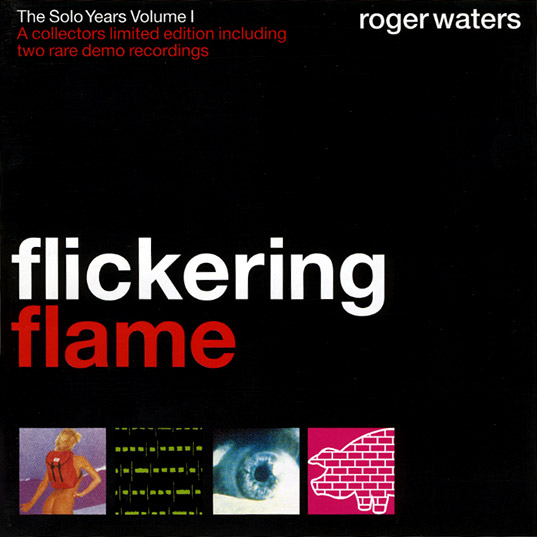 Release date
Apr 29, 2002 (UK)
Track listing
Knockin' on Heaven's Door
04:07 (Dylan)
Too Much Rope
05:12 (Waters)
The Tide is Turning (After Live Aid)
05:25 (Waters)
Perfect Sense, Parts 1 and 2
07:22 (Waters)
Three Wishes
06:49 (Waters)
5:06 am (Every Stranger's Eyes)
04:48 (Waters)
Who Needs Information
05:55 (Waters)
Each Small Candle
08:35 (Waters)
Flickering Flame (New demo)
06:45 (Waters)
Towers of Faith
06:52 (Waters)
Radio Waves
04:31 (Waters)
Lost Boys Calling (Original demo)
04:06 (Waters/Morricone)