Broken China (1996)
Rick Wright
"Welcome to the world of random noise ..."
After being forced out of Pink Floyd by Roger Waters during the recording of 1979's "The Wall" album, keyboardist Rick Wright sat out the band's next project, 1983's "The Final Cut."

When Waters left the group following that album, the remaining Floyds, David Gilmour and Nick Mason, decided to continue using the name, and released 1987's "A Momentary Lapse of Reason," essentially as a duo, using a variety of other musicians to fill out the band. Wright was taken back into the fold late in the recording of "Momentary Lapse," and ended up touring the album with the group.

While 1994's "The Division Bell" album marked Wright's return to true band member status within Floyd, he nonetheless embarked on his second solo outing since 1978's "Wet Dream," when he released 1996's "Broken China." (Actually, Wright had also been involved with a one-album project called Zee with Dave Harris, formerly of the group Fashion. Zee released "Identity" in 1984, which Wright now calls "an experimental mistake.")

Wright turned to Anthony Moore, whose band Slapp Happy had been managed by Peter Jenner, as had the Floyd in their early years, to write most of the lyrics on "Broken China." Moore had worked with Floyd on "A Momentary Lapse of Reason," too.

Other musicians on the project included drummer Manu Katche and bassist Pino Palladino, who had both worked with Peter Gabriel. (Palladino had also appeared on Gilmour's 1984 "About Face" album.) Dominic Miller who had worked with Sting contributed guitar work, as did old Floyd friend Tim Renwick.

Wright also employed Sinead O'Connor for vocals on "Reaching for the Rail" and "Breakthrough."

Gilmour laid down a guitar track for one song, but it ended up being scrapped before the final mix-down.

"Broken China" is a four-part song cycle, dealing with the theme of surviving depression. Wright cites a close personal friend who was battling depression as the work's inspiration. That "friend" has been rumored to be his wife.

The album's cover art was the work, in part, of Storm Thorgerson, who had orchestrated many Floyd album covers before. It is somewhat reminiscent of the diver on 1975's "Wish You Were Here" and the cover of 1992's "Shine On" box set.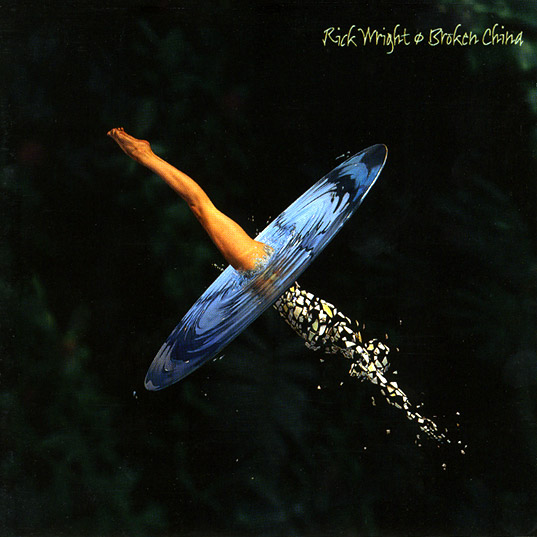 Release date
Oct 7, 1996 (UK)
Mar 25, 1997 (US)
Track listing
Breaking Water
02:28 (Wright/Moore)
Night of a Thousand Furry Toys
04:23 (Wright/Moore)
Hidden Fear
03:28 (Wright/Gordon)
Runaway
04:01 (Moore)
Unfair Ground
02:22 (Wright)
Satellite
04:07 (Wright)
Woman of Custom
03:45 (Moore)
Interlude
01:16 (Wright)
Black Cloud
03:20 (Wright)
Far from the Harbour Wall
06:09 (Wright/Moore)
Drowning
01:38 (Wright)
Reaching for the Rail
00:00 (Wright/Moore)
Blue Room in Venice
02:48 (Wright/Gordon)
Sweet July
04:13 (Wright)
Along the Shoreline
04:36 (Wright/Moore)
Breakthrough
04:20 (Wright/Moore)