About Face (1984)
David Gilmour
"Why don't you try to see the other side ..."
After Pink Floyd's "The Final Cut" (1983), which was a Roger Waters solo album in all but name, guitarist David Gilmour ventured forth on his own. At the time, the future of the group Pink Floyd seemed doubtful. After at least two albums of turmoil, Waters had left the group to go on to "The Pros and Cons of Hitchhiking," a concept he had as far back as 1978, when he presented rough demos to Floyd, along with demos of "The Wall." (Floyd chose the latter as its follow-up to 1977's "Animals.")


Backing band

Gilmour assembled a largely new collection of collaborators, which included: Toto percussionist, Jeff Porcaro; Pino Palladino on bass and Ian Kewley on keyboards, both of Paul Young's band. Steve Winwood, formerly of The Spencer Davis Group, Traffic, Blind Faith, et al., provided additional keyboards on a couple of numbers.

Gilmour produced the album along with Bob Ezrin, who had been involved with Floyd since 1979's "The Wall." It was recorded in Paris at Pathe-Marconi Studios.

The entire work would be written by Gilmour, except lyrics to two numbers provided by The Who's Pete Townshend, who had met Gilmour a couple years prior, while Floyd was working on "The Final Cut" at Eel Pie Studios, owned by Townshend.

"About Face" was released in early 1984. It reached number 32 on the American charts. "Blue Light" and "Love on the Air" were released as singles. Neither broke top 40 in the States, though "Blue Light" came close: number 62. (Both of these songs featured Winwood.)

Gilmour followed the album's release with a 15-week tour of nearly a dozen countries, beginning in Ireland on March 31. The tour spawned "Pink Floyd's David Gilmour," a feature-length concert video, which included conceptual videos for "Blue Light" and "All Lovers Are Deranged," which was co-written by Townshend, and a short documentary titled "After the Floyd."


Solo act?

If there was any doubt as to the direction Gilmour thought he was going, the notes on the video box seemed certain. They described "After the Floyd" as a "30-minute special on David Gilmour's new solo career."

That direction would change in four years, when Gilmour reteamed with drummer Nick Mason and keyboardist Rick Wright to release "A Momentary Lapse of Reason," the first Floyd album without Waters.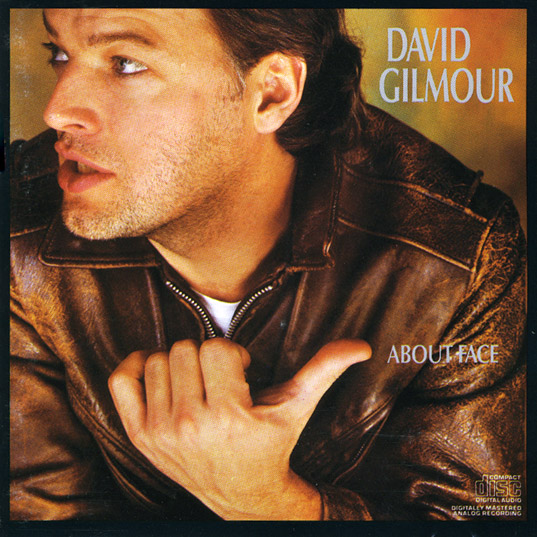 Release date
Mar 5, 1984 (UK)
Mar 5, 1984 (US)
Track listing
Until We Sleep
05:16 (Gilmour)
Murder
04:59 (Gilmour)
Love on the Air
04:19 (Gilmour/Townshend)
Blue Light
04:36 (Gilmour)
Out of the Blue
03:36 (Gilmour)
All Lovers Are Deranged
03:15 (Gilmour/Townshend)
You Know I'm Right
05:06 (Gilmour)
Cruise
04:40 (Gilmour)
Let's Get Metaphysical
04:10 (Gilmour)
Near the End
05:37 (Gilmour)