Relics (1971)
Pink Floyd
"Arnold Layne had a strange hobby ..."
"Relics" is composed of several songs that were released as singles by Pink Floyd. Up to the point the album was released in 1971, many of the numbers had only been released as singles, while others had appeared on various Floyd albums.

There have been a few different album covers for "Relics." The original featured a somewhat Rube Goldberg-esque line drawing from drummer Nick Mason. When the LP was released in the United States, it sported strange masks — actually bottle openers with someone sticking his or her tongue through the mouth opening. The Australian version displayed old coins on the cover.

"Relics" reached number 152 on the United States Billboard album chart.

Oddly, a CD version of the album was not available — except for a limited New Zealand pressing! — until 1995.

The version we play on "Floydian Slip" is the 1995 Capitol remaster. The artwork is a 3D model based on the Mason line drawing.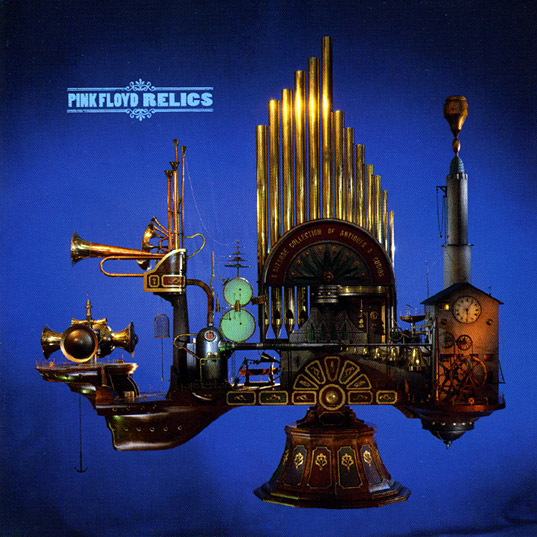 Release date
Jul 15, 1971 (UK)
May 14, 1971 (US)
Track listing
Arnold Layne
02:57 (Barrett)
Interstellar Overdrive
09:43 (Barrett/Mason/Waters/Wright)
See Emily Play
02:54 (Barrett)
Remember a Day
04:29 (Wright)
Paintbox
03:33 (Wright)
Julia Dream
02:37 (Waters)
Careful With That Axe, Eugene
05:46 (Mason/Waters/Wright/Gilmour)
Cirrus Minor
05:18 (Waters)
The Nile Song
03:26 (Waters)
Biding My Time
05:18 (Waters)
Bike
03:22 (Barrett)