1965 — Their First Recordings (2015)
Pink Floyd
"I'd love to but I got flat feet, fallen archs ..."
A handful of very early Pink Floyd recordings had their first official release on Nov. 27, 2015 — Record Store Day in the United Kingdom.

At least two of the eight tracks had been floating around as bootlegs since the '60s — "Lucy Leave" and "I'm a King Bee" — but most fans were familiar with the others by title only.

"1965" contains a total of four Syd Barrett numbers, one by Roger Waters and a cover of a Slim Harpo song.

The lineup on the recordings consists of Roger Waters, bass and vocals; Nick Mason, drums; Rado Klose, guitar; Richard Wright, keyboards; and Syd Barrett, guitar and vocals.

The Waters composition, "Walk With Me Sydney," features vocals by Juliette Gale, wife of keyboardist Rick Wright from '64 to 1982.

The compilation was pressed as a double-7-inch vinyl set in a limited edition of approximately 1,000 and distributed in the U.K. only. But the band's Facebook page says the band hopes to make the tracks available "in some physical form towards the end of next year (2016)."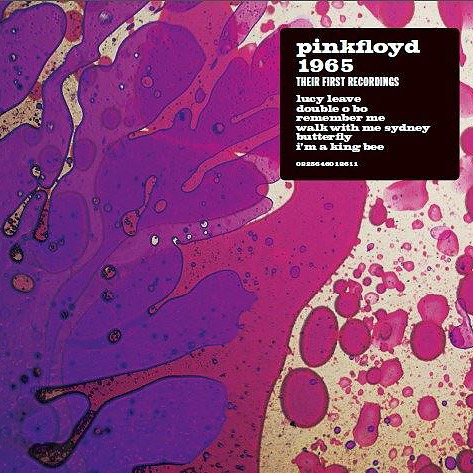 Release date
Nov 27, 2015 (UK)
Track listing
Lucy Leave
02:53 (Barrett)
Double O Bo
03:25 (Barrett)
Remember Me
02:45 (Barrett)
Walk With Me Sydney
03:11 (Waters)
Butterfly
02:59 (Barrett)
I'm a King Bee
03:07 (Harpo)