David Gilmour Live at Pompeii (2017)
David Gilmour
"Sorrow tastes the same on any tongue ..."
David Gilmour's two performances at the ancient ampitheater in Pompeii were some of the hardest tickets to get in July 2016. Seats went for €300 — just more than $400 (US) after booking fees — and patrons were allowed to buy no more than two tickets.

Fans across the globe got a second chance to see (and hear) the show when Trafalagar Releasing brought it to more han 2,000 cinemas for one-night only, Wednesday, Sept. 13, 2017. The 7-minute documentary "Pompeii Then and Now" served as a preface to the feature film, directed by Gavin Elder.

About two weeks later, Sony/Columbia released an extensive package of the shows as "David Gilmour Live at Pompeii" on CD, DVD, Blu-ray and LP.

While the performance included solo tracks from "Rattle That Lock" (2015) and "On an Island" (2006), most of the show consisted of Pink Floyd classics from "The Dark Side of the Moon" (1973), "Wish You Were Here" (1975) and "The Wall" (1979), with newer stuff from "A Momentary Lapse of Reason" (1987) and "The Division Bell (1994).

Gilmour's band was as follows: Chester Kamen, guitar; Guy Pratt, bass; Greg Phillinganes and Chuck Leavell, keyboards; Steve DiStanislao, drums; João Mello, woodwinds; and backing vocalists Bryan Chambers, Lucita Jules and Louise Clare Marshall.

In October 1971, Gilmour had famously played Pompeii with Pink Floyd to an audience consisting of only a film crew. The resulting movie, "Pink Floyd Live at Pompeii," directed by Adrian Maben, was released in 1972 and has become a cult favorite.

Gilmour's shows on July 7 and 8, 2016, marked the first time anyone had performed to a live audience at the ampitheatre since the gladiators nearly 2,000 years previous. The eruption of nearby Mount Vesuvius in AD 79 had buried the city. It wasn't rediscovered until 1748.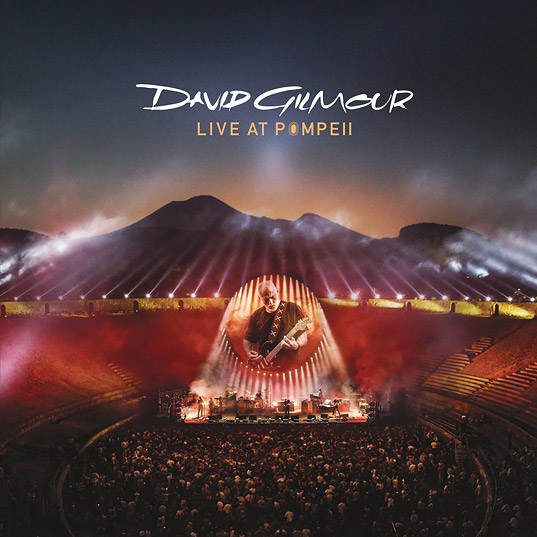 Release date
Sep 29, 2017 (UK)
Sep 29, 2017 (US)
Track listing
5 A.M.
03:55 (Gilmour)
Rattle That Lock
04:41 (Gilmour/Samson/Boumendil)
Faces of Stone
06:00 (Gilmour)
What Do You Want From Me
04:30 (Wright/Gilmour/Samson)
The Blue
06:33 (Gilmour/Samson)
The Great Gig in the Sky
06:02 (Wright/Torry)
A Boat Lies Waiting
04:55 (Gilmour/Samson)
Wish You Were Here
05:18 (Waters/Gilmour)
Money
08:13 (Waters)
In Any Tongue
07:47 (Gilmour/Samson)
High Hopes
09:31 (Gilmour/Samson)
One of These Days
06:32 (Mason/Waters/Wright/Gilmour)
Shine on You Crazy Diamond
12:32 (Waters/Wright/Gilmour)
Fat Old Sun
06:05 (Gilmour)
Coming Back to Life
07:18 (Gilmour)
On an Island
07:01 (Gilmour/Samson)
Today
06:40 (Gilmour/Samson)
Sorrow
10:50 (Gilmour)
Run Like Hell
07:16 (Waters/Gilmour)
Time/Breathe (In the Air) (Reprise)
06:45 (Mason/Waters/Wright/Gilmour)
Comfortably Numb
09:59 (Waters/Gilmour)