Obscured by Clouds (1972)
Pink Floyd
"Childhood's end: Your fantasies merge with harsh realities ..."
"Obscured by Clouds" was the third film soundtrack that Pink Floyd contributed to, after "More" in 1969 and "Zabriskie Point" in 1970. Actually, it was the fourth, if you count Peter Sykes' "The Committee," which was never officially released, nearly guaranteeing that it would become somewhat of a holy grail for Floyd collectors.

Subtitled "Music from The Valley," the album is the soundtrack to the French film "La Vallée," directed by Barbet Schroeder, who also directed 1969's "More."

Nicholas Schaffner wrote in his book "Saucerful of Secrets" that the album was recorded in little more than a week at the Château d'Herouville in France. However, the liner notes on the CD read, "Recorded in England." You be the judge.

"Free Four," the second song Roger Waters wrote making reference to war, a theme he would rely heavily on in 1979's "The Wall" and "The Final Cut" in 1983, was released as a single in the United States, backed with "Stay."

The album peaked at number 46 on the album chart in the States.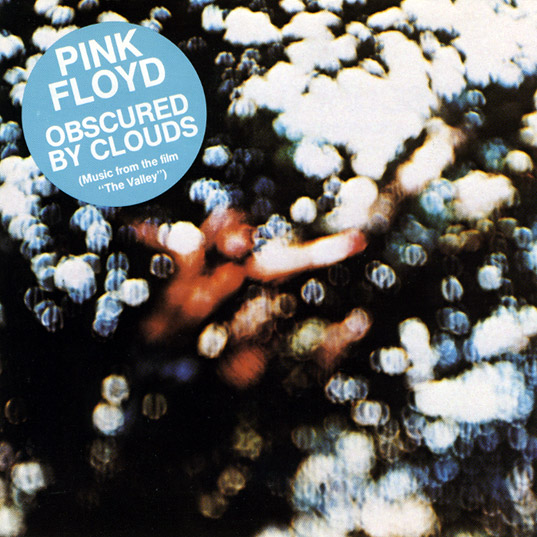 Release date
Jun 2, 1972 (UK)
Jun 15, 1972 (US)
Track listing
Obscured by Clouds
03:04 (Waters/Gilmour)
When You're In
02:30 (Mason/Waters/Wright/Gilmour)
Burning Bridges
03:29 (Waters/Wright)
The Gold It's in the ...
03:07 (Waters/Gilmour)
Wots ... Uh the Deal
05:08 (Waters/Gilmour)
Mudmen
04:20 (Wright/Gilmour)
Childhood's End
04:32 (Gilmour)
Free Four
04:15 (Waters/Wright)
Stay
04:05 (Waters/Wright)
Absolutely Curtains
05:52 (Mason/Waters/Wright/Gilmour)