The Piper at the Gates of Dawn (1967)
Pink Floyd
"Hey ho here we go, ever so high ..."
Released in August 1967, "The Piper at the Gates of Dawn" was the Floyd's first album and the only one to feature band co-founder Syd Barrett. (It also has the distinction of being the only Pink Floyd album without David Gilmour, Barrett's eventual replacement.) Taking its title from chapter seven of Kenneth Grahame's children's book "The Wind in the Willows," "Piper" is classic, psychedelic pop — some of the best the genre has to offer.

The album was produced by Norman Smith, who engineered every Beatles album up to "Rubber Soul," and would go on to his own top 40 hit ("Oh, Babe, What Would You Say?") under the pseudonym of Norman "Hurricane" Smith in 1972.

"Piper" reached number six on the British album chart and 131 in the United States.

Singles in the U.S. included: "See Emily Play"/"Scarecrow" (the original U.S. version of the LP substituted "Emily" for a couple of the other tracks), which peaked at number 134 on the Billboard chart, and "Flaming"/"The Gnome."

The remastered CD version from 1994 sports loads of rare photos and complete lyrics. The repackaging was designed, in part, by Storm Thorgerson, formerly of Hipgnosis — the team responsible for nearly all of the Floyd's album covers and sleeve designs, as well as many solo projects.


40th anniversary reissue

"Piper" was treated to a 3-CD reissue on the occasion of its 40th anniversary in August 2007.

The first two discs contain the entire album as mono and stereo mixes. Both were remastered by longtime Floyd producer James Guthrie.

The third disc included bonus tracks, including all of Floyd's singles from 1967 ("Arnold Layne," "See Emily Play," and "Apples and Oranges"), plus the B-sides "Candy and a Current Bun" and "Paintbox."

Other tracks include an exclusive edit of "Interstellar Overdrive," previously available only on an EP released in France; and the '67 stereo version of "Apples and Oranges," which had never before been officially released.

Packaging for the reissue was by Thorgerson and resembles a cloth-bound book with the original Vic Singh photo on the front. It holds the three CDs, along with an 8-page reproduction of one of Barrett's notebooks.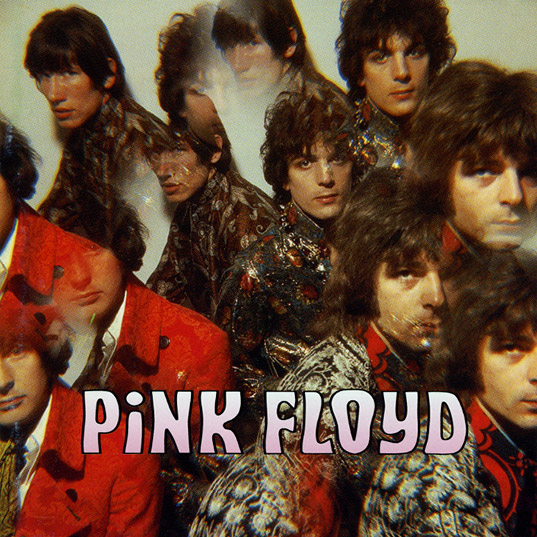 Release date
Aug 5, 1967 (UK)
Oct 21, 1967 (US)
Track listing
Astronomy Domine
04:12 (Barrett)
Lucifer Sam
03:07 (Barrett)
Matilda Mother
03:09 (Barrett)
Flaming
02:47 (Barrett)
Pow R. Toc H.
04:28 (Barrett/Mason/Waters/Wright)
Take Up Thy Stethoscope and Walk
03:05 (Waters)
Interstellar Overdrive
09:42 (Barrett/Mason/Waters/Wright)
The Gnome
02:13 (Barrett)
Chapter 24
03:43 (Barrett)
The Scarecrow
02:11 (Barrett)
Bike
03:22 (Barrett)