The Division Bell (1994)
Pink Floyd
"I can't seem to speak now ..."
Fans of the trippier, synthesized Pink Floyd — in fact, every fan of the group anxious for new material, after waiting seven years since the group's "A Momentary Lapse of Reason," its previous studio album — would hit pay dirt when Floyd released "The Division Bell" in 1994.


The return of Wright

The heavy presence of synthesizer was no coincidence. "The Division Bell" marked the true return of keyboardist Rick Wright to the group, after he was essentially forced out by Roger Waters during recording of 1979's "The Wall." (Waters would split with Floyd in 1983.) While Wright sat out 1983's "The Final Cut," and was only partially involved in the making of 1987's "Momentary Lapse," he would write or co-author three songs on "The Division Bell," including the instrumental "Marooned," which won the best rock instrumental Grammy for '94.

Other songwriting credits included: Polly Samson, David Gilmour's wife; Nick Laird-Clowes, leader of the Dream Academy, whose mid-'80s self-titled album was co-produced by Gilmour; and Anthony Moore, who worked on "Momentary Lapse," and would go on to co-produce Wright's 1996 "Broken China" album.

Wright, along with Gilmour and drummer Nick Mason were joined by many of the musicians the group had gathered for its "Delicate Sound of Thunder" tour several years prior: keyboardist Jon Carin, bassist Guy Pratt, Gary Wallis on percussion, and Tim Renwick on guitar. Bob Ezrin, who first worked with the group on "The Wall," co-produced the effort with Gilmour. Michael Kamen, who also went back to "The Wall," handled orchestrations.

The album's trademark Floydian cover was the work, in part, of Storm Thorgerson, co-founder of the design team Hipgnosis, which had created so many Floyd covers before. While variations and outtakes of older Floyd covers are hard to come by, there are many variations of the now-familiar talking heads of "The Division Bell" — on the vinyl LP, various EPs and promotional material.


Publius Enigma

The artwork of "The Division Bell" was the focus of attention for Publius Enigma fanatics — a devoted, if not kooky, group of netizens who continue to search for signs of a supposed hidden message somewhere within the album, alluded to by a mysterious, anonymous poster to the alt.music.pink-floyd newsgroup. There are theories that Publius was a member of the band, Ezrin, Thorgerson, or even Douglas Adams, author of the successful "Hitchhiker's Guide to the Galaxy" novels and associate of the band.

The album's title, a reference to the British parliament's practice of ringing a bell to call for a vote, was suggested to the group by Adams.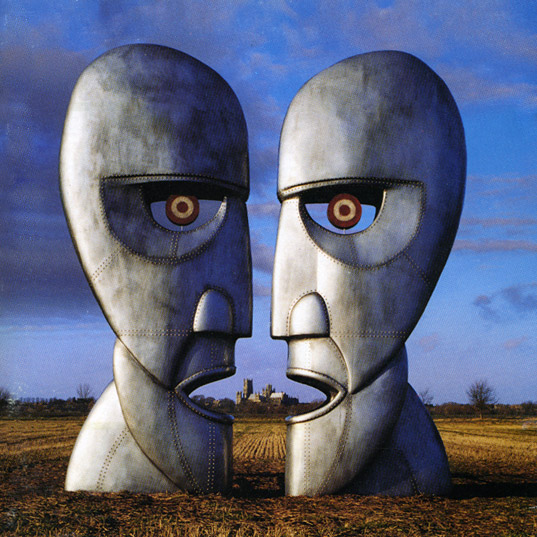 Release date
Mar 30, 1994 (UK)
Apr 5, 1994 (US)
Track listing
Cluster One
05:58 (Wright/Gilmour)
What Do You Want From Me
04:22 (Wright/Gilmour/Samson)
Poles Apart
07:04 (Gilmour/Samson/Laird-Clowes)
Marooned
05:30 (Wright/Gilmour)
A Great Day for Freedom
04:18 (Gilmour/Samson)
Wearing the Inside Out
06:50 (Wright/Moore)
Take It Back
06:12 (Gilmour/Ezrin/Samson/Laird-Clowes)
Coming Back to Life
06:19 (Gilmour)
Keep Talking
06:11 (Wright/Gilmour/Samson)
Lost for Words
05:15 (Gilmour/Samson)
High Hopes
08:32 (Gilmour/Samson)