Pulse (1995)
Pink Floyd
"I've been mad for fucking years ..."
Pink Floyd toured in support of "The Division Bell" for eight months between March and October 1994. "Pulse" was the live, double CD document of that tour.

The players were mostly the same group the Floyd had assembled for the "Delicate Sound of Thunder" tour in the late-80s: Guy Pratt on bass, Jon Carin on keyboards, Tim Renwick on guitar, and percussionist Gary Wallis, in addition to Floyds David Gilmour, Rick Wright and Nick Mason.

For this tour the group decided to go ahead with a notion that they had rejected during their last tour: namely, performing "Dark Side of the Moon" in its entirety. Disc two of "Pulse," therefore, is a live recording of that 1973 classic rock standard, followed by an encore of "Wish You Were Here," "Comfortably Numb," and "Run Like Hell."

Former bandmate Roger Waters confirmed during interviews surrounding his 1999/ 2000 U.S. tour that he was asked to join the band on the "Pulse" tour to perform "Dark Side" with the group. Waters declined.

Perhaps more noteworthy than the recording was the album's packaging. The two discs of "Pulse" came inside a 44-page hardcover booklet, filled with full-color photos of the tour — some of the best photos of that tour or any other Floyd show. The booklet, in turn, was housed in a cardboard box, complete with a red light in the spine, blinking out a perpetual heartbeat rhythm.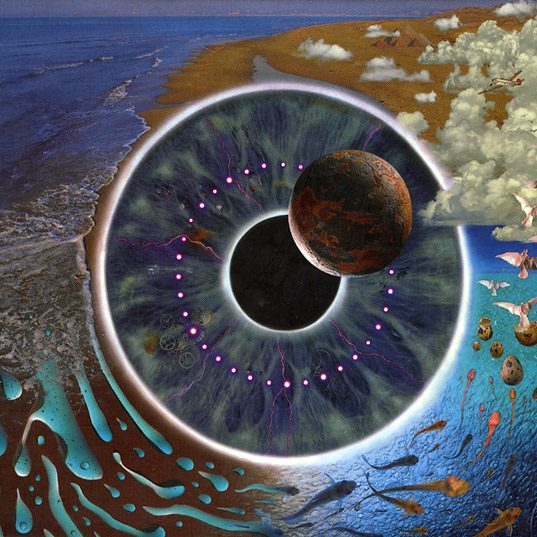 Release date
May 30, 1995 (UK)
Jun 6, 1995 (US)
Track listing
Shine on You Crazy Diamond
13:25 (Waters/Wright/Gilmour)
Astronomy Domine
04:21 (Barrett)
What Do You Want From Me
04:09 (Wright/Gilmour/Samson)
Learning to Fly
05:16 (Gilmour/Ezrin/Moore/Carin)
Keep Talking
06:53 (Wright/Gilmour/Samson)
Coming Back to Life
06:56 (Gilmour)
Hey You
04:39 (Waters)
A Great Day for Freedom
04:30 (Gilmour/Samson)
Sorrow
10:49 (Gilmour)
High Hopes
07:52 (Gilmour/Samson)
Another Brick in the Wall (Part 2)
07:08 (Waters)
Speak to Me
02:30 (Mason/Waters)
Breathe
02:34 (Waters/Wright/Gilmour)
On the Run
03:48 (Waters/Wright/Gilmour)
Time
06:47 (Mason/Waters/Wright/Gilmour)
The Great Gig in the Sky
05:52 (Waters/Wright)
Money
08:54 (Waters)
Us and Them
06:58 (Waters/Wright)
Any Colour You Like
03:21 (Waters/Wright/Gilmour)
Brain Damage
03:46 (Waters)
Eclipse
02:38 (Waters)
Wish You Were Here
06:35 (Waters/Gilmour)
Comfortably Numb
09:29 (Waters/Gilmour)
Run Like Hell
08:37 (Waters/Gilmour)