Music from The Body (1970)
Roger Waters
"Something is killing the land before your eyes ..."
Released in November 1970, "Music from The Body" holds the distinction of being the first solo album from a member of Pink Floyd. (Syd Barrett's "The Madcap Laughs" actually beat "The Body" by 11 months, but, then again, Barrett was no longer a member of the band when he released the album.)

"The Body" was actually, perhaps, more of a Ron Geesin album. It was Geesin who landed the job of putting music to a film version of Anthony Smith's book The Body, written in 1968. When Geesin discovered director Roy Battersby wanted actual songs in addition to background music, he called in Waters to help out.

Clocking in at just more than 41 minutes, the resulting soundtrack album consisted of 22 tracks — a strange collection of short cuts of sound effects and musique concréte with even stranger titles, like "Bridge Passage for Three Plastic Teeth" and "Mrs. Throat Goes Walking."

Most of the original tracks were recorded in early 1970 by each artist on his own. Later, when the duo discovered that the film maker intended to release a soundtrack album, Geesin and Waters worked as a team September and October 1970 to rerecorded the entire work in stereo to make it more palatable as an album.

Geesin would be called in to help shape up the Floyd's "The Amazing Pudding" soon thereafter. The piece would be renamed "Atom Heart Mother," and become the title track to the group's 1970 album.


The rest of the band

If "Give Birth to a Smile" stands out as sounding a little more substantial than many of the other tracks on "The Body," it might be because the rest of Pink Floyd joined Waters in making the song. While the band members received the standard session fees, they went uncredited on the sleeve. "Give Birth to a Smile" and "Breathe," are practically the only two real "songs" on the soundtrack.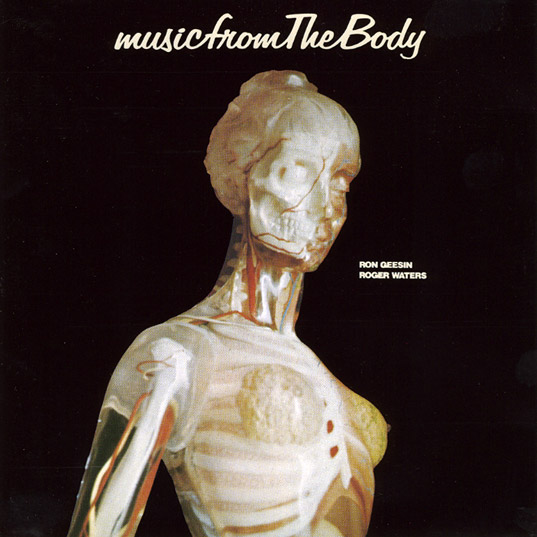 Release date
Nov 28, 1970 (UK)
Track listing
Our Song
01:28 (Waters/Geesin)
Sea Shell and Stone
02:15 (Waters)
Red Stuff Writhe
01:15 (Geesin)
A Gentle Breeze Blew Through Life
01:16 (Geesin)
Lick Your Partners
00:36 (Geesin)
Bridge Passage for Three Plastic Teeth
00:35 (Geesin)
Chain of Life
04:05 (Waters)
The Womb Bit
02:07 (Waters/Geesin)
Embryo Thought
00:34 (Geesin)
March Past of the Embryos
01:09 (Geesin)
More Than Seven Dwarfs in Penis-Land
02:07 (Geesin)
Dance of the Red Corpuscles
02:01 (Geesin)
Body Transport
03:15 (Waters/Geesin)
Hand Dance-Full Evening Dress
01:05 (Geesin)
Breathe
02:49 (Waters)
Old Folks Ascension
03:47 (Geesin)
Bed Time Dream Clime
02:04 (Geesin)
Piddle in Perspex
00:57 (Geesin)
Embryonic Womb Walk
01:19 (Geesin)
Mrs. Throat Goes Walking
02:10 (Geesin)
Sea Shell and Soft Stone
01:56 (Waters/Geesin)
Give Birth to a Smile
02:49 (Waters)