The Pros and Cons of Hitch Hiking (1984)
Roger Waters
"The moment of clarity faded like charity does ..."
Roger Waters had the concept of "The Pros and Cons of Hitch Hiking" as early as 1978. In fact, he presented rough demos of the concept to Pink Floyd, along with demos of "The Wall," following 1977's "Animals" album. The band chose "The Wall," so Waters would put "Pros and Cons" on the back burner.

When Waters parted ways with the rest of the band following 1983's "The Final Cut" — or during "The Final Cut," which might be more accurate — he started recording "Pros and Cons" as his first solo album after leaving. (His 1970 collaboration with Ron Geesin, "Music from The Body," was his first solo album, though Waters was still very much a member of Floyd at the time.)

Front and center of the album's recording line-up was Eric Clapton, who supplied guitar work on "Pros and Cons," a series of songs that depict a man's dream state from 4:30 a.m. to his "moment of clarity" at 5:11 a.m., and its subsequent tour.

In addition to Clapton, Waters borrowed from the musician roster of "The Final Cut": Andy Brown on keyboards and horn player Raff Ravenscroft. Ray Cooper provided the percussion work. Waters co-produced the work with Michael Kamen, who had provided orchestrations for "The Wall," and went on to play both sides of the Pink Floyd field, as he also has been involved with the remaining members of Floyd and their post-Waters efforts.

The album was recorded between February and December of 1983 at Olympic, Eel Pie and The Billiard Room, the recording studio in Waters's Barnes, West London, house. It was released April 30, 1984, and made it to number 31 on the charts in the United States.

The cover was designed by Waters, with lettering by Gerald Scarfe, who created the animated segments and lettering of "Pink Floyd The Wall" film. The female hitch hiker's nudity was obscured by a black block on most of the copies issued.

Listeners of "Floydian Slip," broadcast from Burlington, Vt., might like to know that "Pros and Cons" is the only Floydian album that makes mention of the Green Mountain State. Listen for it in "4:47 a.m. (The Remains of Our Love)," buried underneath Kamen's piano.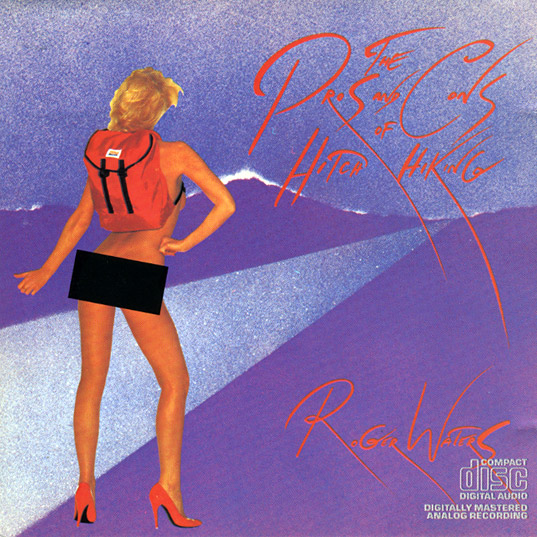 Release date
Apr 30, 1984 (UK)
May 7, 1984 (US)
Track listing
4:30 AM (Apparently They Were Travelling Abroad)
03:12 (Waters)
4:33 AM (Running Shoes)
04:08 (Waters)
4:37 AM (Arabs With Knives & West German Skies)
02:17 (Waters)
4:39 AM (For The First Time Today - Part 2)
02:03 (Waters)
4:41 AM (Sexual Revolution)
04:49 (Waters)
4:47 AM (The Remains Of Our Love)
03:09 (Waters)
4:50 AM (Go Fishing)
07:00 (Waters)
4:56 AM (For The First Time Today - Part 1)
01:38 (Waters)
4:58 AM (Dunroamin, Duncarin, Dunlivin)
03:04 (Waters)
5:01 AM (The Pros & Cons Of Hitchhiking - Part 10)
04:37 (Waters)
5:06 AM (Every Strangers Eyes)
04:49 (Waters)
5:11 AM (The Moment of Clarity)
01:28 (Waters)