Ummagumma (1969)
Pink Floyd
"A river of green is sliding unseen beneath the trees ..."
"Ummagumma" marked several firsts for Pink Floyd:

To begin with, it was the group's first double-album. One disc was composed of live material recorded at Mother's Club in Birmingham, England, and at the Manchester College of Commerce.

The other platter was a studio work, intended to allow each member of the band to shine in his own light, a result of keyboardist Rick Wright's concern that individual group members were confined by writing and playing in a strict "rock group" format.

The live album was produced by the band. For the studio work, Floyd turned to Norman Smith, who had produced the group's first and second albums.

Secondly, the live disc constituted the group's first live album. It would be nearly 20 years before the band would put out its second live album, 1988's "Delicate Sound of Thunder," after Roger Waters' exodus.

"Pulse," released in late-spring 1995, was the group's third live work, followed by "Is There Anybody Out There? The Wall Live" released April 18, 2000.

"Ummagumma" was also the first Floyd album to break the top 100 album chart in the United States. It peaked at number 74.

The album also holds the distinction of containing one of the strangest titled Floyd songs: Roger Waters' "Several Species of Small Furry Animals Gathered Together in a Cave and Grooving With a Pict." There's been much debate on what, in fact, a pict is. According to the Echoes FAQ, a pict is "a member of a possibly non-Celtic people who once occupied Great Britain, carried on continual border wars with the Romans, and about the 9th century became amalgamated with the Scots."

The album's title is a euphemism for the sex act that band members picked up from their early days in Cambridge. Its choice for the album's title apparently had no literal significance. Judging from our interview with Floyd designer Storm Thorgerson, Brits seem to pronounce it OOH-ma GOO-ma, while Americans seem to favor UH-ma GUH-ma.

The American version of the album cover, one of many Floyd covers designed by Hipgnosis, differed slightly from the U.K. version. The U.K. edition, shown here, features the soundtrack album to the musical "Gigi" propped up against the wall, beneath the picture frame. Because of a copyright snafu, the "Gigi" design had to be removed from the album cover in the States, leaving a plain, white cover in its place.

The edition of "Ummagumma" we play on "Floydian Slip" is the remastered EMI UK import CD from 1994, in the deep green box.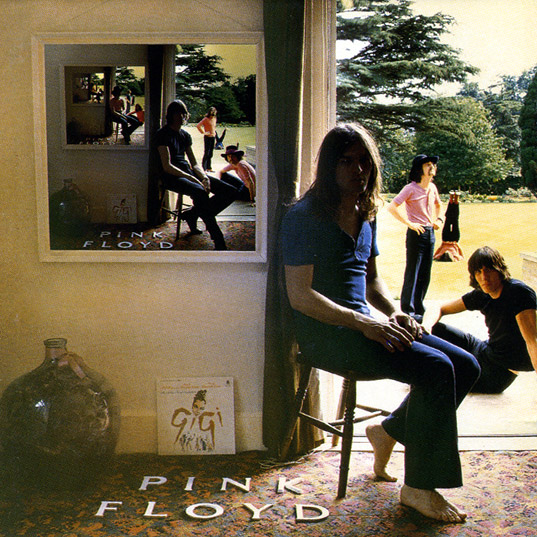 Release date
Oct 25, 1969 (UK)
Nov 10, 1969 (US)
Track listing
Sysyphus Part 1
01:09 (Wright)
Sysyphus Part 2
03:30 (Wright)
Sysyphus Part 3
01:50 (Wright)
Sysyphus Part 4
07:00 (Wright)
Grantchester Meadows
07:26 (Waters)
Several Species of Small Furry Animals Gathered in a Cave an Grooving with a Pict
05:00 (Waters)
The Narrow Way Part 1
03:28 (Gilmour)
The Narrow Way Part 2
02:53 (Gilmour)
The Narrow Way Part 3
05:57 (Gilmour)
The Grand Vizier's Garden Party Part 1 (Entrance)
01:00 (Mason)
The Grand Vizier's Garden Party Part 2 (Entertainment)
07:06 (Mason)
The Grand Vizier's Garden Party Part 3 (Exit)
00:39 (Mason)
Astronomy Domine
08:30 (Barrett)
Careful With That Axe, Eugene
08:51 (Waters/Mason/Wright/Gilmour)
Set the Controls for the Heart of the Sun
09:12 (Waters)
A Saucerful of Secrets
12:48 (Waters/Mason/Wright/Gilmour)