In the Flesh (2000)
Roger Waters
"Each small candle lights a corner of the dark ..."
Fans still waiting for a new Roger Waters album eight years following the release of "Amused to Death" (1992) were anxious to get their hands on "In the Flesh" — although the 2-CD set contained only one new number.

A 150-minute document of the second leg of Waters' 1999/2000 U.S. tour of the same name, "In the Flesh" marked a couple other firsts for the co-founder of Pink Floyd:


Live "Animals," "The Final Cut" material

The album is the only legitimate recording to contain live versions of material from the "Animals" album and "The Final Cut." Some songs from "Animals" were played in concert years before they ended up on the album in 1977 (with different titles), though bootleg recordings are the only place you'll find them live. Material from "The Final Cut" was never toured by Floyd, as it was all written by Waters, who left the group in a bitter split following the album's release. Waters included some songs from the album on subsequent solo tours, though "In the Flesh" marks their first legitimate live release.

All of the Waters solo material on the album — culled from "The Pros and Cons of Hitch Hiking" (1984) and "Amused to Death" (1992) — is also presented for the first time in a live format. (The only live version of a Waters number to be recorded legitimately previously was "The Tide Is Turning [After Live Aid]," originally from "Radio K.A.O.S." [1987] and tacked onto the end of his "The Wall Live in Berlin" in 1990.)

Performances from a number of West Coast shows were mined to create the album: Rose Garden Arena, Portland, Ore.; America West Arena, Phoenix, Ariz.; MGM Grand Arena, Las Vegas, Nev.; and Verizon Wireless Ampitheatre, Irvine, Calif. The running order of the CDs closely follows that of the live shows.


One new composition

By including "Set the Controls for the Heart of the Sun" — an early Waters number from 1968's "A Saucerful of Secrets" — and "Each Small Candle," the album's only new composition, "In the Flesh" represents a pretty solid summary of Waters' work to date. (Material from "Radio K.A.O.S." is conspicuously absent.)

The first verse of "Each Small Candle" consists of a poem written for Danish Amnesty International by Halfdan Rasmussen. It was sent by an Italian reporter to Waters who then wrote the rest of his song as a response to the poem, also drawing inspiration from reports of violence (and compassion) in Kosovo.

The liner notes for the album might offer as much insight into Waters' psyche as any of the songs. In a lengthy essay, as told to Nick Sedgwick, Waters explains his distaste for huge, stadium shows and explains his views of the performer/audience relationship.

"I have increasingly found myself directly addressing audiences, reaching out to them, if you like, in ways I hadn't attempted before, or at least certainly hadn't in the bad old days when I'd have hidden behind any prop or device to shield myself from the responsibilities, and ultimately from the rewards of that relationship," Waters offers. "There's a bond established between us, one which is very precious, and one from which I now derive tremendous pleasure."

In explaining how he chose the songs that appear on the album, Waters writes, "It has always been my view that anyone who owns 'Dark Side of the Moon' and 'The Wall' needs 'Amused to Death' to complete both the set and the narrative." (Waters and his accountants can only hope to be so lucky!)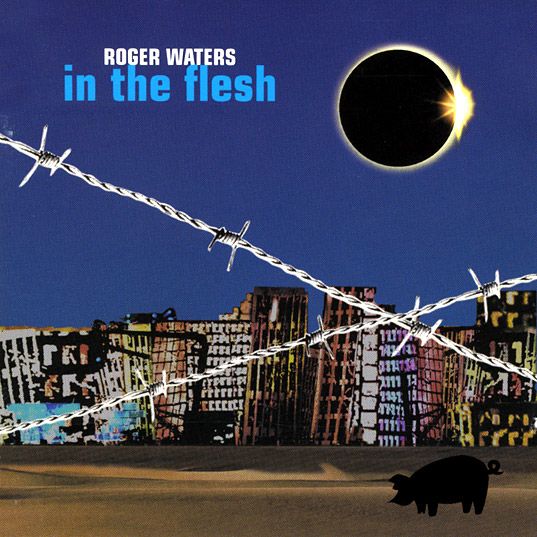 Release date
Dec 5, 2000 (UK)
Dec 5, 2000 (US)
Track listing
In the Flesh
04:42 (Waters)
The Happiest Days of Our Lives
01:34 (Waters)
Another Brick in the Wall, Part 2
05:54 (Waters)
Mother
05:37 (Waters)
Get Your Filthy Hands Off My Desert
00:57 (Waters)
Southampton Dock
02:16 (Waters)
Pigs on the Wing, Part 1
01:18 (Waters)
Dogs
16:27 (Waters/Gilmour)
Welcome to the Machine
06:57 (Waters)
Wish You Were Here
04:55 (Waters/Gilmour)
Shine on You Crazy Diamond, Parts 1-8
14:43 (Waters/Wright/Gilmour)
Set the Controls for the Heart of the Sun
17:15 (Waters)
Breathe (In the Air)
03:22 (Waters/Wright/Gilmour)
Time
06:24 (Mason/Waters/Wright/Gilmour)
Money
06:12 (Waters)
The Pros and Cons of Hitch Hiking Part 11 (aka 5:06 am Every Stranger's Eyes)
05:20 (Waters)
Perfect Sense, Parts 1 and 2
07:26 (Waters)
The Bravery of Being Out of Range
05:05 (Waters)
It's a Miracle
08:12 (Waters)
Amused to Death
09:24 (Waters)
Brain Damage
04:07 (Waters)
Eclipse
02:19 (Waters)
Comfortably Numb
08:10 (Waters/Gilmour)
Each Small Candle
09:09 (Waters)