Atom Heart Mother (1970)
Pink Floyd
"And I would like to know: How do you feel? ..."
Side one of "Atom Heart Mother" is composed solely of the title track, which began its life as "The Amazing Pudding," a working title that would later become the name of a now-defunct Floyd fanzine. The group recorded the framework of the 23-minute-plus number, and then left it in the hands of Ron Geesin to add orchestrations, choirs and such, while Floyd toured America.

A good portion of side two consists of "Alan's Psychedelic Breakfast," a nearly 14-minute, three-part song cycle, named after Floyd roadie Alan Stiles.

The realistically irritating sounds of a fellow cooking his breakfast act as a segue between the three parts. When performing the number in concert, the band allowed the smells of real cooking eggs and bacon to permeate the audience.

On the original British LP version, the sound of the dripping faucet at the end continued into the record's center groove, making for a constant drip, until the needle was lifted from the album.

The album's title was allegedly inspired by an Evening Standard headline about a pregnant woman with an atomic pacemaker — a headline Geesin spotted shortly before the band was to go on the John Peel radio show to debut its then-unnamed opus. The story goes that the band adopted the name on the spot.

The album cover photo came about nearly as spontaneously. In an attempt to shock the public with an entirely ordinary album jacket for the new Pink Floyd album, Hipgnosis's Storm Thorgerson drove to Essex, England, and snapped a photo of the first cow he came across.

Furthermore, the album was released without the band's name on it. The ordinary nature of the cover, of course, turned out to be more radical than anything else the band could have done.

"Atom Heart Mother" became Floyd's first number one album in Britain. It reached 55 in the United States.

The version we play on "Floydian Slip is the gold Mobile Fidelity Ultradisc II pressing, which is the version pictured.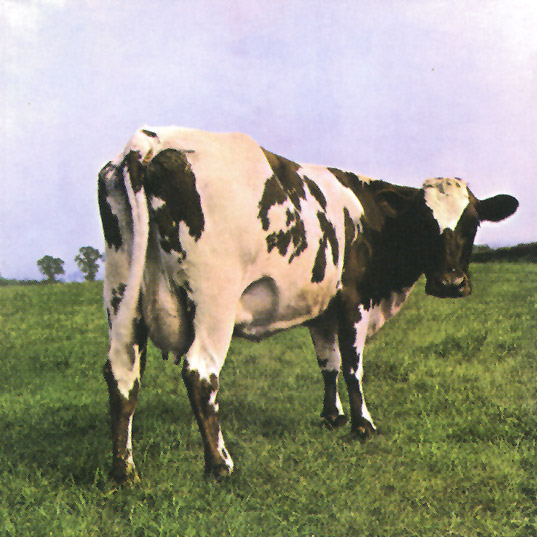 Release date
Oct 10, 1970 (UK)
Oct 10, 1970 (US)
Track listing
Atom Heart Mother
23:46 (Mason/Waters/Wright/Gilmour/Geesin)
If
04:31 (Waters)
Summer '68
05:28 (Wright)
Fat Old Sun
05:23 (Gilmour)
Alan's Psychedelic Breakfast
13:43 (Mason/Waters/Wright/Gilmour)