David Gilmour (1978)
David Gilmour
"It's a new one on me, to even dream that you're free ..."
Floyd guitarist David Gilmour embarked on his first solo effort following Floyd's 1977's "Animals" album, and the resulting In the Flesh tour. He cited his desire to escape the "pure perfection" demanded in working with Pink Floyd.

The line-up of musicians created a reunion of Bullitt, a group Gilmour was in before joining Pink Floyd, including: Willie Wilson on drums, and Rick Wills on bass. (The two were also part of the early Gilmour group Jokers Wild.) The trio recorded the album at Superbear Studios in France, where Gilmour would return shortly after his solo album, to record "The Wall" (1979).


Origins of "Comfortably Numb"

The fact that the trio had decided to record such a distance from its native England would be largely responsible for what would become one of the most recognizable Floyd tunes ending up on "The Wall," instead of Gilmour's '78 solo effort. Late in the recording process, Gilmour came across the riff for a tune he considered putting on his solo LP. But because the other two members of the group had already departed for home, he was forced to hold onto the tune, and use it later. Along with lyrics from Roger Waters, that riff would evolve into "Comfortably Numb," a centerpiece of "The Wall." Furthermore, it was voted best Floyd song by a 1989 readers' poll in The Amazing Pudding, a now-defunct Floyd fanzine.


Unicorn cover

The album also sports a song co-written by Roy Harper, returning the favor for work Gilmour performed on Harper's "H.Q." album, as well as a cover of Ken Baker's "There's No Way Out of Here," originally recorded by Unicorn, a band Gilmour produced.

"We actually recorded '(There's) No Way Out of Here' on a night that David couldn't get to the studio," recalls Unicorn bassist Pat Martin in an exclusive interview with "Floydian Slip". "When he heard a rough mix of it a few days later, he phoned me up and told me he thought it was an excellent song, and that it was our best performance in the studio to date. A few days after that he phoned to say that he was going to do it on his first solo album."

Martin says Gilmour expressed an interest in having him play bass with Unicorn's Pete Perryer on drums for the album. But it was a plan that couldn't come to fruition, because Gilmour had already promised the job to Wills and Wilson.

"Rick copied my bass line and even told me how much he liked it when I saw him backstage at Floyd's Knebworth gig some time later," Martin says.

"David also asked (Unicorn's) Ken Baker if he could write some lyrics for another two or three songs that were going on the album, but Ken only writes from experience and had to decline," Martin adds. "We all thought he was crazy at the time. David then asked Roy Harper."

Gilmour's solo LP, titled, simply, "David Gilmour," was released in May 25, 1978 — coinciding with keyboardist Rick Wright's first solo album, "Wet Dream." It was self-produced, with Storm Thorgerson providing cover photos. "David Gilmour" would climb to number 29 on the Billboard chart in the United States.

Billboard was bullish on the album, calling it an "unqualified artistic and commercial success. It established him as a master guitarist, vocalist and songwriter, even outside of the Floyd context" (Feb. 3, 1979).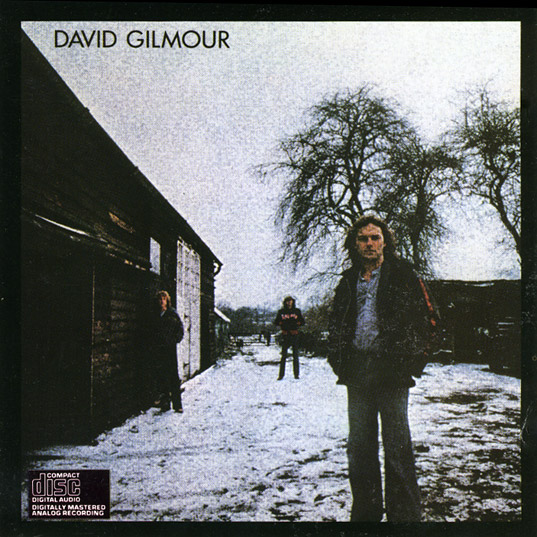 Release date
May 25, 1978 (UK)
Jun 17, 1978 (US)
Track listing
Mihalis
05:47 (Gilmour)
There's No Way Out of Here
05:08 (Baker)
Cry from the Street
05:13 (Gilmour/Stuart)
So Far Away
06:05 (Gilmour)
Short and Sweet
05:31 (Gilmour/Harper)
Raise My Rent
05:34 (Gilmour)
No Way
05:32 (Gilmour)
It's Deafinitely
04:27 (Gilmour)
I Can't Breathe Anymore
03:06 (Gilmour)