When the Wind Blows (1986)
Roger Waters
"You can take your revenge, but you'd still feel bad ..."
David Bowie was the first pick of director Jimmy T. Murakami to score his animated adaptation of Raymond Briggs's 1982 novel When the Wind Blows. Bowie had previously handled the soundtrack for Briggs's and Murakami's "Snowman," but when prior commitments limited Bowie's involvement to just providing the film's title track, Briggs and Murakami turned to Roger Waters.

The film was an apocalyptic story of an elderly couple that survives a nuclear holocaust, only to slowly die of radiation.

Waters, along with his new group, The Bleeding Heart Band, ended up creating the entire second side of the film's soundtrack, consisting of one, 24-minute-plus track. The side contains two songs — "Towers of Faith" and "Folded Flags" — among long passages of instrumental.

Other artists on side one include: Bowie, Hugh Cornwell, Genesis, Squeeze, and Paul Hardcastle, best known for his 1985 hit "19."


Foreshadowing of K.A.O.S. to come

Waters, intentionally or not, gave us a brief preview of his next solo project, 1987's "Radio K.A.O.S.," when he made reference to "the powers that be," which would become a song title on "K.A.O.S.," and when he included a Morse code signal trailing off at the end of the passage, also indicative of "K.A.O.S."

The version of "When the Wind Blows" we play on "Floydian Slip" is a German import. The album has gone in and out of print over the years, but, as of this writing, is available for purchase.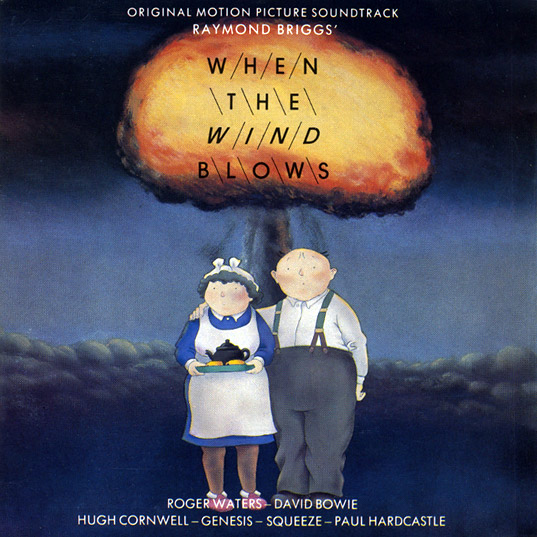 Release date
Oct 30, 1986 (UK)
Track listing
The Russian Missile/Towers of Faith/Hilda's Dream/American Bomber/Anderson Shelter/British Submarine/Attack/Fallout/Hilda's Hair/Folded Flags
24:26 (Waters)