Cre/ation (2016)
Pink Floyd
"White is the light that shines through the dress that you wore ..."
Released at the same time as the boxset "The Early Years: 1965-1972," this 2-CD sampler provides some of the $550 boxset's rarities for buyers on a budget.

Borrowing from a number of the boxset's 27 discs, "Cre/ation" features 2016 remasters of early Floyd numbers; previously unreleased BBC radio performances; live tracks from Amsterdam and Montreux; new remixes of numbers from the "Obscured by Clouds" soundtrack; as well as outtakes from the "Zabriskie Point" soundtrack.

The set also contains Syd Barrett's "In the Beechwoods. Recorded in 1967 but never released, the track's title refers a wooded area in Cambridge where Barrett's scout trooped used to camp.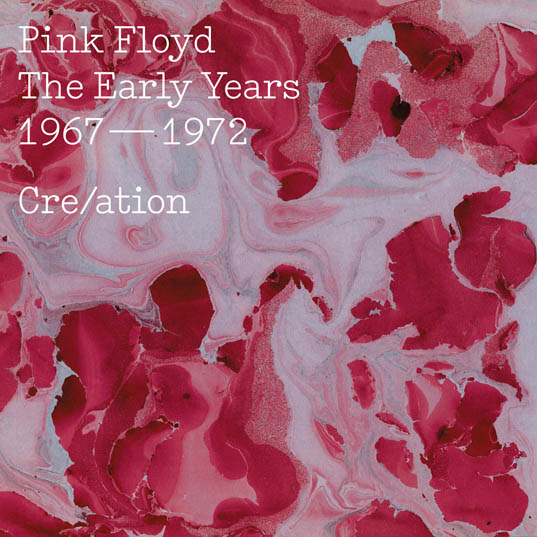 Release date
Nov 11, 2016 (UK)
Nov 11, 2016 (US)
Track listing
Arnold Layne (2016 remastered version)
02:57 (Barrett)
See Emily Play (2016 remastered version)
02:55 (Barrett)
Matilda Mother (2010 mix/2016 remastered version)
03:59 (Barrett)
Jugband Blues (2010 mix)
03:02 (Barrett)
Paintbox (2016 remastered version)
03:47 (Wright)
Flaming (BBC radio session)
02:42 (Barrett)
In the Beechwoods (2010 mix)
04:43 (Barrett)
Point Me at the Sky (2016 remastered version)
03:41 (Waters/Gilmour)
Careful with That Axe, Eugene (Single 2016 remastered version)
05:48 (Mason/Waters/Wright/Gilmour)
Embryo (From "Picnic")
04:42 (Waters)
Ummagumma radio ad
00:20
Grantchester Meadows (BBC radio session)
03:46 (Waters)
Cymbaline (BBC radio session)
03:39 (Waters)
Interstellar Overdrive (Live, The Paradiso, Amsterdam)
04:24 (Barrett/Mason/Waters/Wright)
Green Is the Colour (BBC radio session)
03:21 (Waters)
Careful With That Axe, Eugene (BBC radio session)
03:28 (Mason/Waters/Wright/Gilmour)
On the Highway (Zabriskie Point remix)
01:16 (Mason/Waters/Wright/Gilmour)
Auto Scene Version 2 (Zabriskie Point remix)
01:14 (Mason/Waters/Wright/Gilmour)
The Riot Scene (Zabriskie Point remix)
01:40 (Wright)
Looking at Map (Zabriskie Point remix)
01:56 (Mason/Waters/Wright/Gilmour)
Embryo (BBC radio session)
10:13 (Waters)
Atom Heart Mother (Live, Montreux)
18:01 (Mason/Waters/Wright/Gilmour/Geesin)
Nothing, Part 14
07:01 (Mason/Waters/Wright/Gilmour)
Childhood's End (2016 remix)
04:33 (Gilmour)
Free Four (2016 remix)
04:16 (Waters)
Stay (2016 remix)
04:08 (Wright)