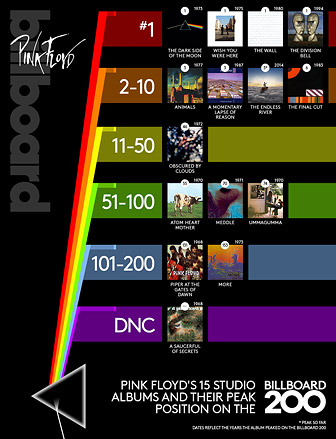 Pink Floyd's new album "The Endless River," released Nov. 10, has debuted on the Billboard 200 album chart at #3.
The album was bested only by Foo Fighters' debut of "Sonic Highway" at #2, and Taylor Swift's third week at #1 for her album "1989."
If "The Endless River" climbs to #1, it'll be Floyd's fifth #1 album, following "The Dark Side of the Moon" (1973), "Wish You Were Here" (1975), "The Wall" (1979) and "The Division Bell" (1994).
"The Endless River" debuted on the U.K. charts at the #1 position last week.
Billboard has created an infographic showing Floyd's chart activity over the years. The band's only studio album that failed to chart on Billboard was "A Saucerful of Secrets" (1968).