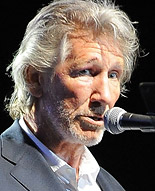 The NY Post reports Pink Floyd's Roger Waters attended the Oct. 23 Long Island Music Hall of Fame induction ceremony with a black eye and stitches.
Though he joked he got into a fight with a bottle of tequila the night before — "and the bottle won" — apparently he actually fell in his bathroom, hit his head, and was knocked unconscious.
The paper says Waters was at the NewYork-Presbyterian Hospital/Columbia emergency room until 5 a.m. the day of the event.