News
Posted October 21, 2014 by Floydian Slip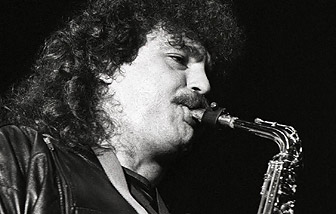 Sax player Raphael Ravenscroft died following a suspected heart attack suffered Sunday. He was 60.
Ravenscroft appeared on Pink Floyd's "The Final Cut" (1983) and Roger Waters's "The Pros and Cons of Hitch Hiking" (1984). He also played live with David Gilmour during his "About Face" tour in 1984.
His best-known contribution to recorded music is certainly his soaring sax work on Gerry Rafferty's "Baker Street" in 1978. A #2 hit in the United States, the song reportedly earned him only £27 for his time. And the check allegedly bounced.
In a 2011 interview, Ravenscroft said his work on that song had always irritated him, "because it's out of tune. It's flat. By enough of a degree that it irritates me at best."
Ravenscroft also worked with Abba, Robert Plant, Marvin Gaye, America, Kim Carnes, Mike Oldfield and many others.
Subscribe to our feed
1
Archives

Deep archives

Categories