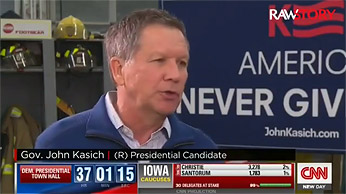 Just when you thought the current never-ending presidential campaign couldn't possibly intersect with the legacy of your favorite rock band, candidate John Kasich has managed to wed the two.
Republication presidential hopeful and Ohio governor Kasich replied to a question posed by a CNN reporter about his favorite concert experience by praising Pink Floyd and "The Wall."

"I don't even have to think twice. It was the best," he says of the Roger Waters' show he saw in Pittsburgh. "If I'm president, I am going to once and for all try to reunite Pink Floyd to come together and play a couple songs," he adds.
We think a Constitutional amendment might be easier.