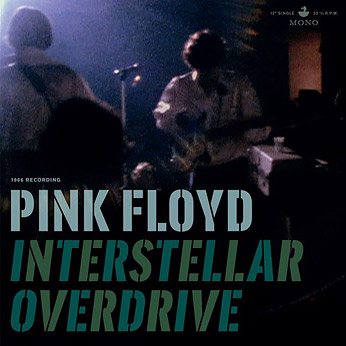 Legacy Recordings will release an early, previously-unreleased version of Pink Floyd's "Interstellar Overdrive" on April 15.
Recorded Nov. 31, 1966, at Thomson Studio in Hemel Hempstead, Hertfordshire, the nearly-15-minute piece features Syd Barrett, Nick Mason, Rick Wright and Roger Waters.
A shorter version of the instrumental appeared on Floyd's first album, "The Piper at the Gates of Dawn," in August 1967.
The 12-inch one-sided single comes a week before Record Store Day; and will be available for sale at "Their Mortal Remains," the massive Floyd exhibition opening  at the Victoria & Albert's Museum in London in May.
With artwork taken from an early UFO gig, the 180-gram disc will come with a fold-out poster and postcard featuring the group.
This recording would seem to pre-date the version featured in the Peter Whitehead film "Tonight Let's All Make Love in London," and available on the EP "Pink Floyd: London '66-'67." Clocking in at just less than 17 minutes, that version was recorded at London's Sound Techniques on Jan. 11 and 12, 1967.