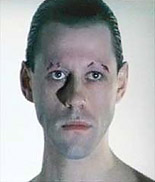 Bob Geldof will become the first Irishman in space when he takes a ride on a commercial flight beyond the earth's atmosphere in 2015.
Geldof, the Boomtown Rats frontman who played Pink in 1982's "Pink Floyd The Wall," was offered the trip when the Rats agreed to play a concert next month at a charity event at the Natural History Museum, London.
Tickets for the flight will be auctioned at the event.
The Independent quotes Geldof as saying: "Pretty mind-blowing … The First Rock Astronaut — Space Rat! Elvis may have left the building but Bob Geldof will have left the planet! Wild!"