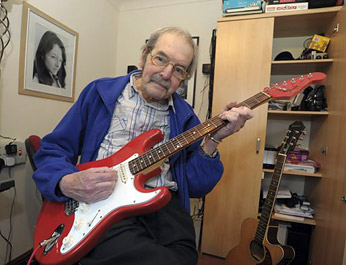 Chris Dennis, who spent six months in 1963 as a member of the band that would evolve into Pink Floyd, recently auctioned off three of his guitars.
Now 74 and living in Llangefni, Anglesey, North Wales, Dennis left the group to join the Royal Air Force stationed in Bahrain, because he felt the band wasn't going anywhere. When he returned, the band had released its first album, "The Piper at the Gates of Dawn" (1967) and Dennis wasn't invited back into the fold.
Dennis had collected approximately 20 guitars since his Pink Floyd days, opening his own recording studio in Cambridge and doing work with Dave Berry, Tony Leonard (The Glitter Band) and members of Shakin Stevens.
He recently auctioned off a Sunburst Stratocaster and Fender Squire Stagemaster for almost £500. A Gretch Eddie Cochrane worth £600 didn't meet his reserve price.
Mail Online has posted an interesting story about Dennis and his remarkably well-adjusted attitude in the wake of just nearly being part of a band that went on to world domination.