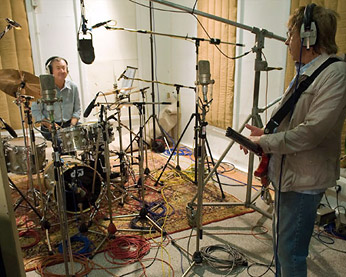 EMI yesterday denied reports it's looking to sell its iconic Abbey Road recording facility, where loads of renowned bands, including Pink Floyd, have recorded over the years.
Terra Firma, which has owned EMI since 2007, said in a release that it's "holding preliminary discussions for the revitalization of Abbey Road with interested and appropriate third parties."
However, it added, selling the studios to a third party is not its goal.
When news broke last week it caused a flurry of protests, including the formation of an organization calling itself Save Abbey Road Studios. The group, comprised of studio employees, musicians, and fans, put online a petition to build support to save the facility from redevelopment.
The petition is still online.
(Pictured: Floyd drummer Nick Mason and Rolling Stone Bill Wyman playing at Abbey Road Studios for the "All You Need Is Love" charity single last autumn. Read more about the single.)