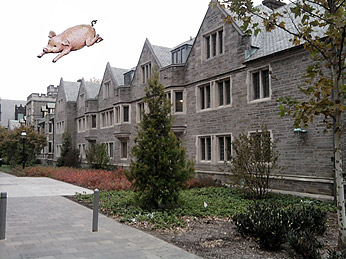 Princeton University in Princeton, N.J., is hosting what it says is the first "interdisciplinary conference celebrating the music, art, and culture of Pink Floyd."
Pink Floyd: Sound, Sight, and Structure will take place Sunday, April 13 at the university's Taplin Auditorium.
At 4:40 p.m., longtime Floyd producer/engineer James Guthrie will provide the keynote speech titled "Surrounded by Recollections of Pink Floyd Records." That evening, Guthrie will play host to playback of a number of Surround Sound mixes of Floyd classics.
Other events taking place in Princeton that weekend include talks by Princeton music composition PhD candidates and professors, live music, a screening of the 1982 feature film "Pink Floyd The Wall" and more.
The event is free, but R.S.V.P is required.