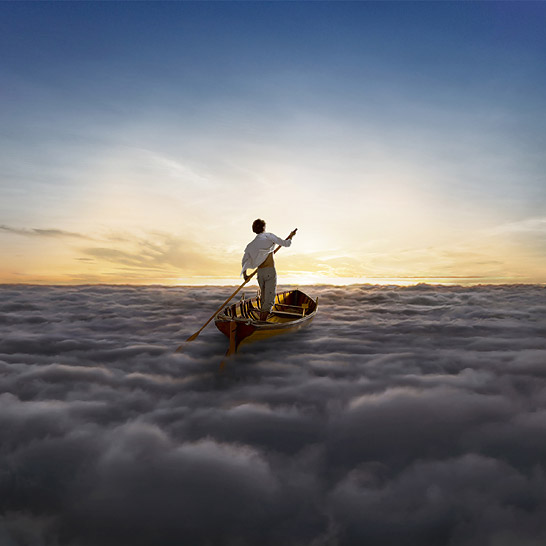 Pink Floyd revealed today details about its upcoming "The Endless River," the band's first studio album in 20 years, with the launch of a new website devoted to the project as well as a marketing campaign that put the album's artwork on buildings across the globe.
Originally expected to drop sometime in October, we now know the album will be released Nov. 10 in three formats: a standard CD, a double LP, and a 2-disc boxset. (The Nov. 10 release date, a Monday, is likely a U.K. date, with the U.S. release likely coming Nov. 11.)
Track listing
The track listing is broken into four "sides" to, according to the band's press release, "invoke the album listening experience." All tracks are instrumental, except for "Louder Than Words," with lyrics by Polly Samson.
Side 1
Things Left Unsaid
It's What We Do
Ebb and Flow
Side 2
Sum
Skins
Unsung
Anisina
Side 3
The Lost Art of Conversation
On Noodle Street
Night Light
Allons-y (1)
Autumn'68
Allons-y (2)
Talkin' Hawkin'
Side 4
Calling
Eyes to Pearls
Surfacing
Louder Than Words
Three formats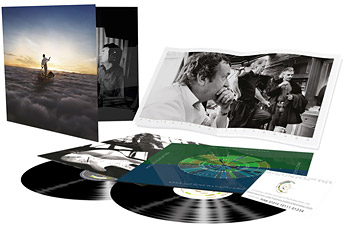 The standard CD will come in a hard-cover bound book package with foil blocking on a cloth spine, and includes a 16-page booklet including previously unpublished photographs from the 1993 sessions.
The double vinyl set will be pressed on heavyweight 180-gram vinyl, mastered by Doug Sax at The Mastering Lab in Ojai, Calif. Packaged in a gatefold sleeve with full-color inner bags, it comes with a download card and an 11″ x 11″ 16-page booklet including previously unpublished photographs from the '93 sessions.
The 2-disc boxset includes:
A 24-page booklet in hard-cover, including previously unpublished photographs from the '93 sessions
CD in full-color card wallet with full-color label
DVD (NTSC) or Blu-Ray disc in full-color card wallet with full-color label
Three postcards, one with a 3D Lenticular design
The DVD contains "The Endless River" album in 5.1 Surround (Dolby Digital and DTS), plus stereo version in 48kHz/24 bit
The Blu-Ray disc contains the album in high-resolution 5.1 Surround (DTS Master Audio and PCM, 96/24), plus PCM stereo 96/24
About 39 minutes of non-album audio/visual material: Six video tracks and three audio tracks, unavailable elsewhere
Archive video material and still photographs shot during the original '93 recording sessions
Roots in "The Division Bell"
Produced by David Gilmour, Phil Manzanera, Youth and Andy Jackson, "The Endless River" is composed of material recorded during the making of 1994's "The Division Bell."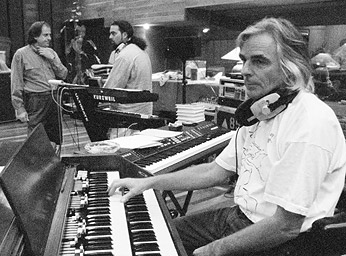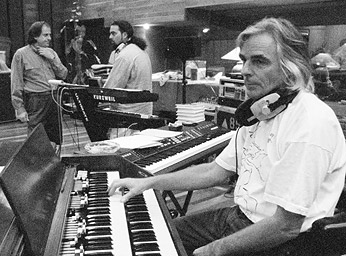 "We listened to over 20 hours of the three of us playing together and selected the music we wanted to work on for the new album," according to Gilmour. "Over the last year we've added new parts, re-recorded others and generally harnessed studio technology to make a 21st century Pink Floyd album.
"With Rick gone, and with him the chance of ever doing it again, it feels right that these revisited and reworked tracks should be made available as part of our repertoire," he adds.
"The Endless River is a tribute to Rick," says Nick Mason. "I think this record is a good way of recognizing a lot of what he does and how his playing was at the heart of the Pink Floyd sound. Listening back to the sessions, it really brought home to me what a special player he was."
Cover artwork
The album artwork of a man rowing on a "river" of clouds was created by Ahmed Emad Eldin, an 18-year-old Egyptian digital artist. His image was re-created by UK design agency Stylorouge.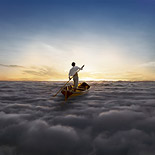 The artwork is displayed on buildings in 10 cities around the world. In London, it's displayed on an 8-meter-high, illuminated cube installation on the South Bank.
Storm Thorgerson, the man responsible for most of Floyd's album art since 1968's "A Saucerful of Secrets," passed away in 2013. The task of finding an image to represent the new album fell to Aubrey 'Po' Powell, Thorgerson's original partner in design team Hipgnosis.
"When we saw Ahmed's image it had an instant Floydian resonance,"  Powell says. "It's enigmatic and open to interpretation, and is the cover that works so well for The Endless River."