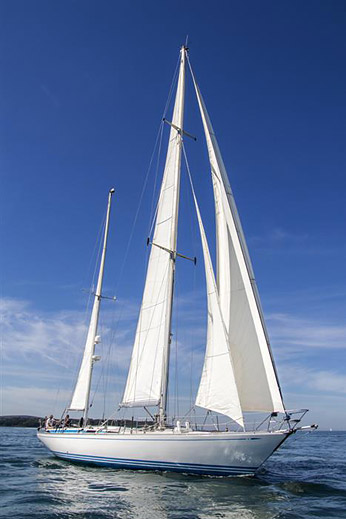 A boat lies waiting for you … if you've got £450 to spend.
Evrika, the Nautor Swan 65 yacht that once belonged to Pink Floyd's Rick Wright, is for sale.
Built in 1982, Wright bought the vessel in '84 and owned it until his death in 2008. He lived on board the boat while he sailed the Greek islands during his hiatus from the Floyd following "The Wall" and before regrouping with David Gilmour and Nick Mason for "A Momentary Lapse of Reason" in '87. It's only had three owners in its lifetime.
While Evrika has been refurbished, it still retains many of its original features. The interior, at least, is entirely original.
Sale of the vessel is being handled by Berthon International Yacht Brokerage of Lymington, U.K. Contact Sue Grant at sue.grant@berthon.co.uk and see more details on the Berthon website.
Wright's passion for sailing is referenced in "A Boat Lies Waiting," a song on Gilmour's album "Rattle That Lock."