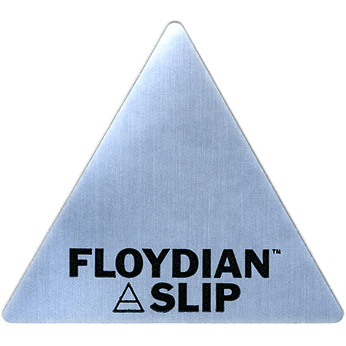 We've added a second design to the "Floydian Slip" collection of promotional stickers.
Our new triangular sticker is printed in matte metallic silver, and is 2″ x 2¼". Perfect for sticking on your favorite bathroom stall door, restaurant salad bar sneeze-guard, or T72 Iraqi tank (See "Floydian Slip sticker spotted on Iraqi tank.")
This new one joins our 2″ x 4″ full-color vinyl sticker that we rolled out in October 2015.
Learn how you can get a fistful of both stickers entirely free.
If you stick it, click it: Snap a picture of your "Floydian Slip" sticker in the wild, email it to us and we'll share it with the rest of you crazy diamonds here on our blog, Facebook and Twitter.